Mopar '13 Dodge Dart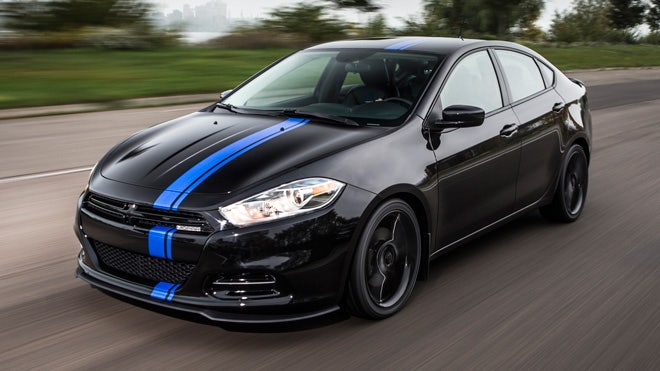 The Dart is getting sharper. Chrysler's Mopar division is building a special edition of the compact upgraded for style and speed. The 1.4-liter tubocharged, six-speed manual model gets a performance exhaust system, lowered and stiffened suspension, unique wheels with low-profile tires and a body kit with rear spoiler and ground effects along with a Mopar Blue stripe on black paint job. Inside, a blue leather driver's seat stands out from the black chairs for passengers, reminding them who's boss.
Pricing has not yet been announced, but the Mopar Dart makes its debut at the Chicago Auto Show of February 7th and just 500 of them will be built. To make it even more collectable, each one comes with a numbered plate and a sketch of the car autographed by Mopar's chief designer.
Source: Dodge
Read more:http://www.foxnews.com/leisure/slideshow/2013/01/25/hottest-new-cars/?intcmp=features#slide=1#ixzz2Jue399Jx